Permanent Magnetic Drum Separator Magnets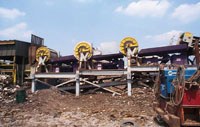 Walker Permanent Magnet Drums are designed to accommodate feed widths up to 96″. Drums in an axial pole configuration produce high-grade magnetic concentrates, and can be equipped with housings that incorporate one or two adjustable splitters which will provide up to three products: tailings (nonmagnetic), middlings (non-liberated), and concentrate (magnetic). Grade of separation can be influenced by drum diameter, number of poles and drum speed. The feed presented should be uniformly sized.
Drums in a radial pole configuration orient long material such as roof bolts or re-bar along the drum width so they cannot be knocked off. Magnets can be arranged in a variety of ways to produce the depth of field and holding power to accommodate a broad range of applications. Deep-reaching magnetic fields can be achieved for suspended drums that will pluck ferrous items as large as 12" from the burden. The advantage of these units is that they require no power and are permanently magnetized for the life of the installation.
Waste-to-Energy, auto shredding, mining, aggregate processing and more
Permanent Magnet Drums are available in either axial pole (with diameters from 36 to 60 inches) or radial pole designs (with diameters from 36 to 60 inches).
Drums are powered by maintenance free Ceramax, focused-flux strontium-ferrite ceramic magnets for superior coercive force, and are impervious to weather.
Drums are available in a variety of cylinder materials and linings, with nonmagnetic drum heads.
Contact a Walker Application Specialist for detailed specifications and pricing.