RL Series Rectangular Lifting Magnets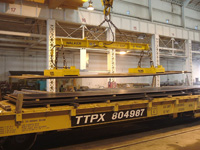 Rectangular lifting systems are designed to lift plate, slabs, and billets in compliance with the ASME B30.20 standard for below-the-hook lifting devices. RL's are found moving large plates to and from burning tables, fabricating areas, welding departments, and receiving and shipping areas. Typical users are steel warehouses, shipyards, fabricators, and metal working plants.
These magnets can be used individually or in multiples with different types of suspension systems. Walker engineers and supplies the complete system including power supplies, controls, and battery safety back-up systems. While the most popular magnet sizes range from 8″X16″ to 26″X60″, custom designs and options for standard units are available for special applications.
Walker Rectangular Lift RL Magnets are designed to lift plates of all sizes.Electro-permanent magnets, CE-Series, Cer-Series, NEO-Series, and WBM-Series are also available for plate lifting.
Ship Yards
Metal Working
Service Centers
Cutting Table Operations
Shipping and Receiving
Fabricating Areas
Horizontal and vertical plate storage
Load and unload trucks
Load and clear cutting tables
The maximum rated lift is based upon lifting clean, smooth, flat, low-carbon steel plate of ample thickness with the full area of the magnet's lifting surface in contact with the load. De-rating is required for plates with rust or scale, thin plates, and alloy steels.
Typical sizes available from 3,500 to 52,500 lbs. rated lift. Contact factory for detailed specs and pricing.