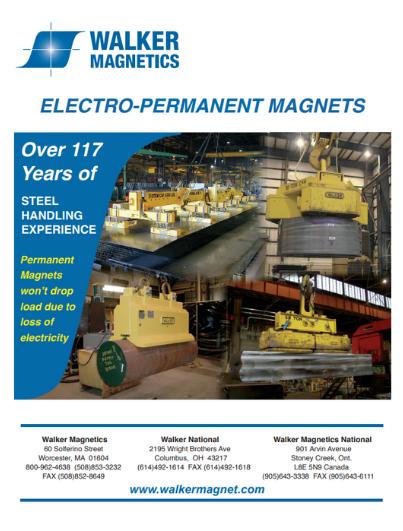 Electro-Permanent Magnets Catalog 2015
7,941.02KB
These permanent magnets only require a momentary pulse of electricity from the controller to energize or de-energize. Once energized, the magnets are "ON" and their lifting ability will not be affected by electrical power failure or cut cables.
Walker's compensated magnet circuit design allows the switching process to be performed without the use of internal moving parts. Because the magnets
have no internal moving parts, they can be rigidly encapsulated and sealed so that no dust or particles can enter and create a problem over time.
Electro-permanent magnets have unique magnetic characteristics. Please contact your Walker representative to discuss your particular application.