November 17, 2020 By walkermagnetics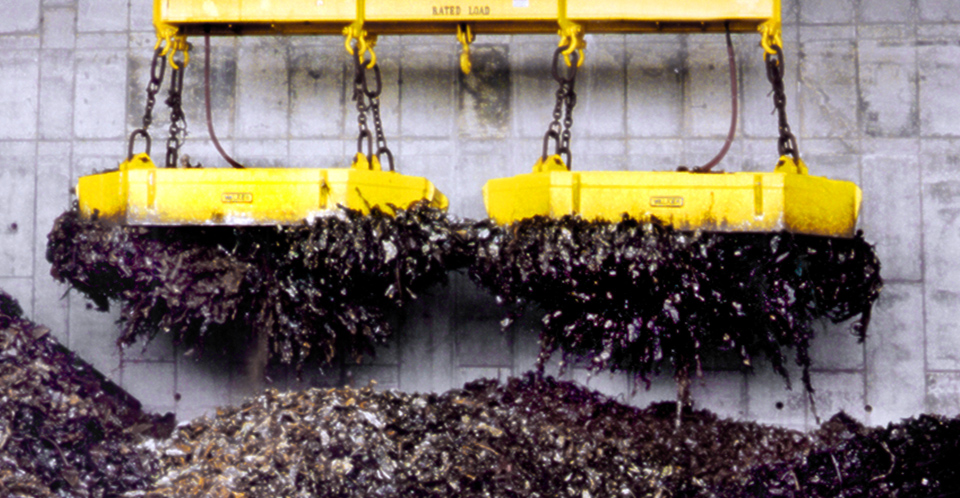 Steel is the most recycled material both in the United States and worldwide, contributing nearly $18 billion in export sales in 2017, according to a 2018 report from the Institute of Scrap Recycling Industries, Inc. (ISRI). That year, 66 million metric tons of ferrous scrap were processed in the U.S., and 600 million tons were consumed globally as manufactured products and materials.
This was all made possible with the use of magnets.
Magnets are used by the recycling industry to separate higher-value non-ferrous scrap from obsolete ferrous scrap metals (including iron, stainless steel, and carbon steel) recovered from automobiles, steel structures, household appliances, railroad tracks, ships, farm equipment, and other industrial sources. These materials are processed by the scrap and recycling centers into commodity-grade materials used to produce more than 60 percent of total raw steel produced in the United States.
Magnets for the scrap and recycling industry need to be reliable, strong, and cost-effective. Walker Magnetics is the largest custom designer and manufacturer of magnetic products for industrial applications – including recycling – used by customers in more than 190 countries. These high-quality magnets are made from durable materials that withstand rust, corrosion, and wear – and are designed to save recycling plants and scrap facilities time and labor.  They also eliminate many safety hazards connected to manual sorting, thereby improving overall facility efficiency.
Walker Magnetics is a global supplier of electromagnets and control systems that are durable and powerful, and capable of attracting everything from loose metals in hard-to-reach areas to heavy pieces of oddly shaped metal. Many scrapyards use our circular scrap metal magnets, Scrapmaster electromagnets, or Liftmaster magnets with radiation detection for a wide variety of tough jobs.
Our permanent and electromagnetic pulleys provide recyclers with fast and reliable material separation. Our pulleys are built for maximum holding power, designed to accommodate the facility and application. Our suspended magnetic separators quickly remove tramp (loose or unwanted) metal from conveyors and our drum separators trap magnetic materials so ferrous metals flow through.  We also have high-capacity Eddy current separators to quickly transport non-ferrous material through the conveyor system while removing magnetized metals.
These magnets are making an impact.  In 2017, the U.S. exported 5.3 million metric tons of shredded steel scrap, 4.3 million metric tons of #1 heavy melting steel, and other ferrous scrap to more than 75 countries worldwide, helping off-set trade imbalances.  Additionally, by using ferrous scrap rather than virgin materials in the production of iron and steel, CO2 emissions were reduced by 58 percent.
We're happy to play our part.