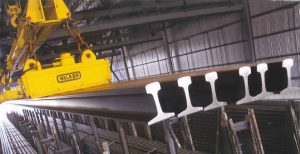 Walker has supplied hundreds of track sweeping magnets to MOW equipment suppliers, various rail line companies, and operators within the industry. These powerfully designed electric magnets are then suspended from specially designed utility rail cars for track cleaning purposes.
Walker magnets have replaced clips, slings and chains for the handling of rails, and have supplied rail manufacturers worldwide with magnetic systems equipped to handle sections from short runs to the longest seamless rail.
Steel mills that rely on scrap received by rail cars also rely on Walker magnets. Walker made the first and most powerful rectangular scrap magnets for unloading rail cars.
Additionally, Walker's ties to the Railroad industry includes its magnetic workholding products, world renowned for the fine grinding of bearings and rotating components. Walker has also pioneered magnetic clamping during milling of rails used in junctions and terminals.