Turbomill Electro-Permanent Milling Chuck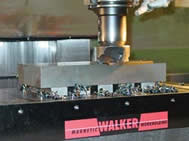 Walker Turbomill MMC Magnetic Milling Chucks eliminate the use of traditional clamping methods in CNC machining center and including tombstone applications. You don't need clamps or fixtures of any type. The applications shown in this demonstration are Profiling, Face Milling, Plunge Milling, Slotting, Drilling, and Edge Milling.
The Turbomill differs from other electro-permanent systems through their unique conception, which favors a maximal flux concentration.
A very strong attraction of more than 241 lb/in² is reached.
Heavy to light milling for workpieces
Electropermanent magnetic chuck, (ALNiCo and Neodymium)
Reduce set-up time and increase available machine time
Help to dampen vibrations, resulting in longer tool life
Allow single set-up machining with 5-sided accessibility
Operation through TM Series controls
Through drilling possible with use of rise blocks
Backrest and endstops
Hold down clamps
Cable for current supply of the chuck: 10 ft
Voltages available: 208V, 220V, 480V, 560V.