Electromagnetic Suspended Separator, Self-Cleaning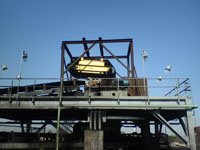 Deep penetrating electromagnets, incorporating all of the latest innovations in coil design, allow Walker's electromagnetic suspended separators to remove both large and small tramp metal from deep burdens on fast-moving conveyors. The separators are designed for continuous operation at peak performance.
Self-cleaning magnets can be mounted in line with the material flow or transverse to remove the ferrous materials over the side of the conveyor.


Auto shredding, blue box recycling, aggregate processing , mining and more
Self-cleaning
115 or 230 VDC aluminum coils with Class R (220 degrees Celsius) insulation
100% duty cycle, oil cooled
Space wound aluminum coils for rapid heat dissipation Internal oil expansion chamber with pressure relief valve and drain plugs
Heavy, wear-resistant manganese steel bottom plate
Extremely high strength design
Precision wound coil assembly
High-quality transformer grade oil for cooling
Robust framework and all North American sourced components
Explosion-proof designs available
Heavy-duty self-aligning sealed bearings.
Rugged structural steel frame
TEFC "Energy Efficient" motor
Single head and tail pulleys on smaller units, compact four-pulley design on larger units
Heavy cleated rubber belt with take-up adjustment
Clad Belts are available
Four-point suspension
Shaft-mounted speed reducers
115VDC or 230VDC operation and a wide variety of sizes to suit any industrial need. Contact a Walker application specialist for detailed specifications and pricing.