NEO Series Permanent Lift Magnets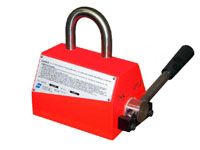 The new NEO-150, NEO-300, NEO-500, NEO-600, NEO-1000, and NEO-2000 Series Material Lifting Magnets are used in steel supply, machine, and die shops where heavy steel objects must be moved rapidly and safely.
The maximum rated lift is based upon lifting a clean, smooth, flat, low-carbon steel plate, 1.5″ (38mm) or thicker with the full area of the magnet's lifting surface in contact with the load. Derating is required for plates with rust or scale, plates thinner than 1.5″ and alloy steels. Please consult the OPERATOR'S MANUAL AND SAFETY INSTRUCTIONS FOR MORE DETAILED RATINGS.
For flat and round steel material handling
Packed with the highest quality rare earth neodymium magnetic material
High lift capacity
Ease of operation
Low weight … easy to move
No power consumption
Handle locks in "On" or "Off" positions to prevent unintentional operation
Meets all the requirements of ANSI / ASME B30.20 (safety standard)
NEO Magnets can lift Round Bar, Pipe, and Flat Plates easily.
Supplied with manual, pull test certificate, DVD, and safety poster.
Item Number
WIDTH (inch)
LENGTH (inch)
HEIGHT (inch)
WEIGHT (lbs)
WIDTH (metric)
LENGTH (metric)
HEIGHT (metric)
WEIGHT (kg)*
MAX CAPACITY ON ROUNDS (lbs)**
MAX CAPACITY ON PLATE (lbs)**
NEO-150
2.3"
3.6"
4"
6
58mm
91mm
102mm
2.7
165
330
NEO-300
4"
5.9"
6"
22
102mm
150mm
152mm
10.0
330
660
NEO-500
4.7"
9.7"
6"
42
119mm
246mm
152mm
19.1
550
1100
NEO-1000
5.8"
12.4"
8.5"
80
147mm
315mm
216mm
36.4
1100
2200
NEO-2000
6.5"
19"
9.8"
198
165mm
483mm
249mm
90.0
2200
4400
*Weights are approximate net values. Shipping weights will be higher.
**Max capacity tested on AISI 1020 steel. Other materials may perform at a lower max capacity and should be evaluated for a magnetic derate value.
Available for Order Online through the Industrial Magnetics, Inc. store