NEO-HV Series Permanent Lifting Magnets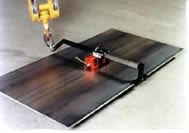 These NEO-HV lifting magnets are designed to lift loads from the horizontal position into the vertical and vice-versa. Imagine you have a plate lying on a pallet and you want to put it onto your horizontal machining center. Operators have to do this many times a day and they usually have to struggle with clamps, slings or chains, often needing two people, to turn and keep the component in position. Three standard models are available: NEO-HV 250, NEO-HV 500 & NEO-HV 1000 with maximum lifting capacities of 550, 1100 and 2200 lbs. on flat AISI 1020 steel. NEO-HV lifting magnets are adjustable to accommodate a range of flat plates & flat circular disks. Lifting arms, NEO-HV 250, NEO-HV 500 and NEO-HV 1000 can be purchased separately and retrofitted to a NEO-250, NE0-500 or NE0-1000 lifting magnet.
The NEO series permanent lifting magnets requires good surface conditions to achieve maximum lifting capacity. Thanks to Neodymium magnets they perform quite well on flat non-machined surfaces with some rust or scale. The NEO-HV model is ideally suited for in-plant handling, loading and unloading machine tools with a horizontal spindle and for plate handling in warehouses. Workload Limit (Rated Lift Capacity)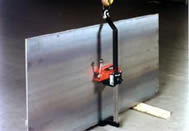 NEO HV 2The maximum lifting capacity is based upon lifting clean, smooth, flat, low-carbon (AISI 1020) steel plate, 3 inches or thicker with the full area of the magnet's poles in contact with the load. Derating is required for plates or flat material with rust or scale, non-machined or uneven surface, plates thinner than 3 inches and alloy steels. Refer to the operator's manual for more detailed workload limits.
For vertical loading into machining centers and lathes
Uses Standard NEO-250, NEO-500 or NEO-1000 lifting magnet
Detachable lifting arm HV-250, HV-500 and HV-1000
Meets all the requirements of ANSI/ASME B30.20 (safety standard)
Supplied with manual, pull test certificate, video, and safety poster.
Neodymium magnetic material
Item Number
WIDTH (inch)
LENGTH (inch)
HEIGHT (inch)
WEIGHT (lbs)
WIDTH (metric)
LENGTH (metric)
HEIGHT (metric)
WEIGHT (kg)*
MAX CAPACITY ON ROUNDS (lbs)**
MAX CAPACITY ON PLATE (lbs)**
NEOHV-250
8.3"
37.7"
10"
60
211mm
958mm
254mm
27.3
N/A
550
NEOHV-500
10.8"
45.6"
10"
86
274mm
1158mm
254mm
39.1
N/A
1100
NEOHV-1000
13.6"
47.7"
12.2"
158
345mm
1212mm
310mm
71.8
N/A
2200
*Weights are approximate net values. Shipping weights will be higher.
**Max capacity tested on AISI 1020 steel. Other materials may perform at a lower max capacity and should be evaluated for a magnetic derate value.