BUX R Series battery powered lift magnets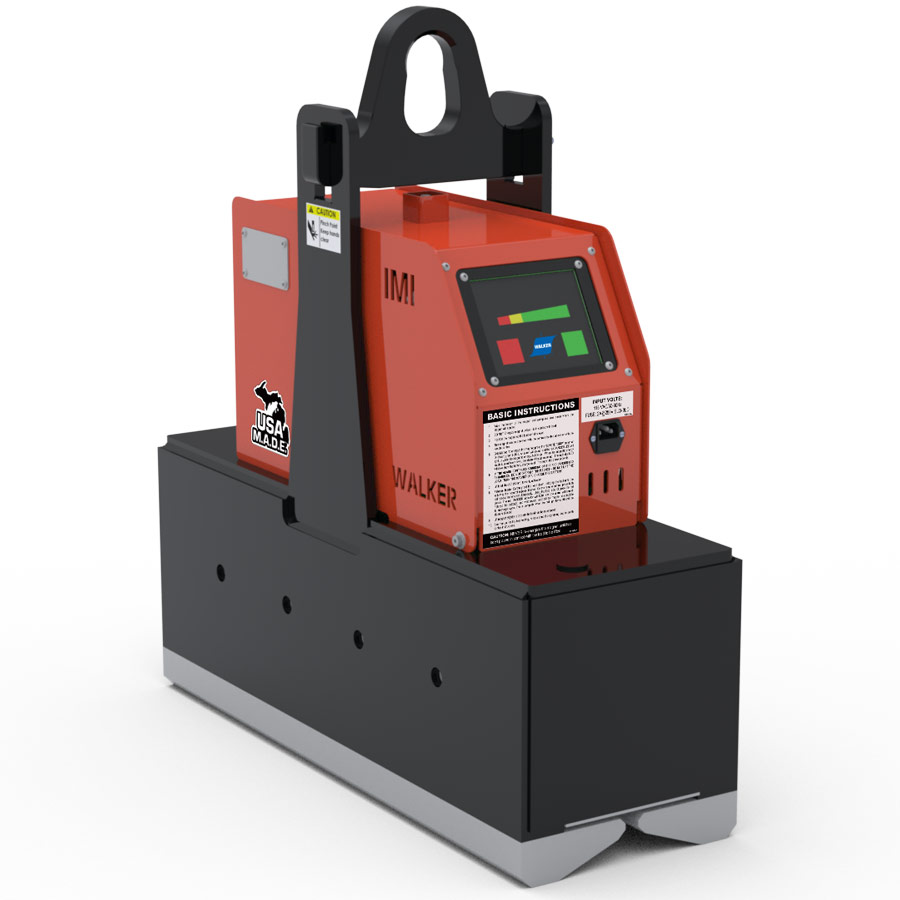 The special feature of these Battery Powered Lifting Magnets is its unique pole shoe design, which enables it to handle a wide variety of structural shapes and rounds.
Powered by its own battery, it is free of restricting cords and wires, and can also operate in areas where electric power is not readily accessible.
This unique magnet is ideally suited for handling pipe, tubing, bar stock, billets, I beams, H beams, angles, channels, Tees, Zees, and pilings. Although specially designed to handle structural shapes and rounds, the Bi-Polar configuration also lifts plate, forgings, and castings. Batteries not included.
For flat and round material handling
Pocket for IR Remote Transmitter*
Removable cover allows inspection of battery.
Temperature compensated: built-in automatic cut-off charger prevents over-charging of battery.
For safety, magnet can not be turned "ON" if battery charge is too low.
Interlock prevents magnet de-energisation when suspended in air.
Audible Warning Alarm and flashing light indicate low battery
Lighted display indicates battery charge level.
110V AC cord and plug for built-in battery charger
Uses "Deep Discharge" type low maintenance Gel Cell Battery (not included).
Meets all the requirements of ANSI/ASME B30.20 (safety standard).
Supplied with manual, pull test certificate, video, and safety poster.
Dual push button release
Clip allows operator to attach to belt or pocket
Single push button lift
Additional remote control units available at nominal cost.
Item Number
WIDTH (inch)
LENGTH (inch)
HEIGHT (inch)
WEIGHT (lbs)
WIDTH (metric)
LENGTH (metric)
HEIGHT (metric)
WEIGHT (kg)*
MAX CAPACITY ON ROUNDS (lbs)**
MAX CAPACITY ON PLATE (lbs)**
BUXR01665¹
9.875
20.5
29.5625
390
251mm
521mm
751mm
176.9
1665
1665
BUXR03330¹
10.5
30
31.8125
739
267mm
762mm
808mm
335.2
3330
3330
¹ Battery not included
*Weights are approximate net values. Shipping weights will be higher.
**Varies based on shape and thickness. Max capacity tested on AISI 1020 steel; other materials may perform at a lower max capacity and should be evaluated for a magnetic derate value.
The maximum rated lift is based upon lifting clean, smooth, flat, low-carbon steel, 2″ or thicker with the magnet's lifting surface in full contact with the load. Derating is required for plates or other loads with rust or scale, loads thinner than 2″, or alloy steels. Please consult the OPERATOR'S MANUAL AND SAFETY INSTRUCTIONS for more details.
Available for Order Online through the Industrial Magnetics, Inc. store