BUX F Series Battery Powered Lift Magnets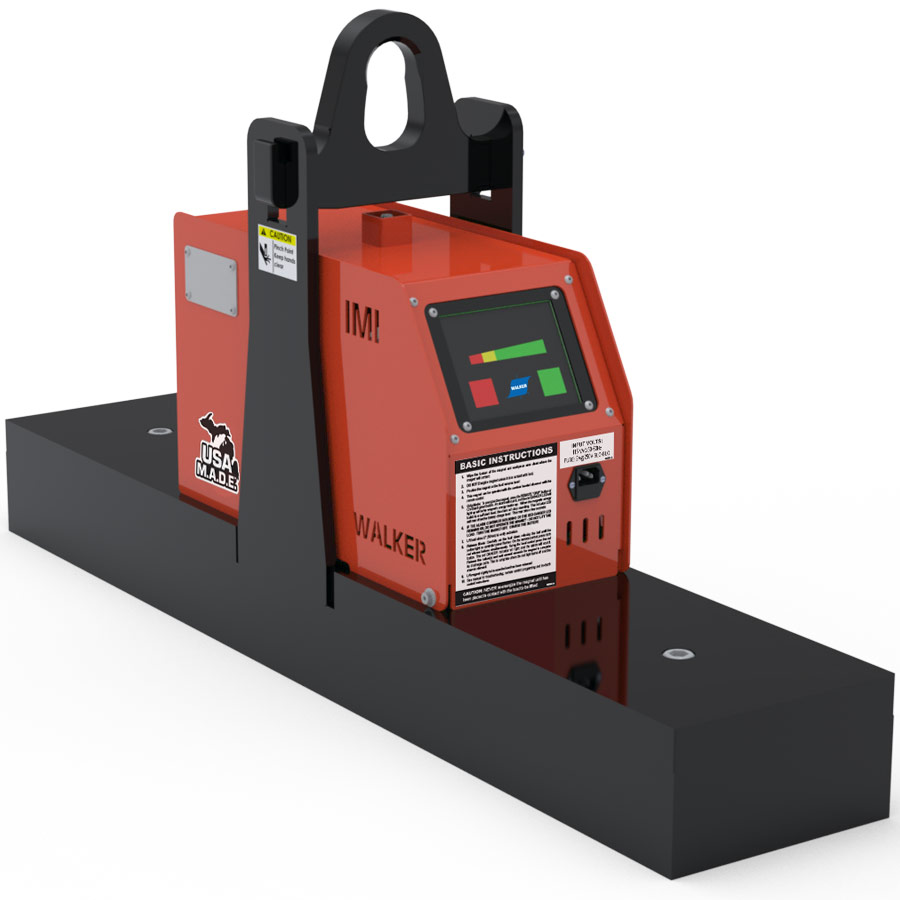 Local & cordless remote controlled battery powered lift magnets are designed for flat material handling. These Battery Powered Lifting Magnets are compact, mobile, self-contained battery powered units. Operating on their own power sources, they are free of restricting cords and wires and have the further advantage of being usable in areas where electric power is not available. The BUXF03000, BUXF05500 and BUXF08000 are all single units. The BUXF11000 is two magnets on an adjustable spreader beam operated from a single battery pack.
These versatile Walker magnets have widespread application for handling of plates, die blocks, machined components, smooth castings, and forgings. These battery powered magnets are extremely useful throughout the plant, around the yard, receiving and shipping areas, storeroom, cut-off saws, burning and welding tables, and machine tools such as grinders, millers, shapers, drill presses, etc. Batteries not included.
The maximum rated lift is based upon lifting clean, smooth, flat, low-carbon steel plate, 2″ or thicker with the full area of the magnet's lifting surface in contact with the load. Derating is required for plates with rust or scale, plates thinner than 2″, and alloy steels. More detailed ratings are contained in the Operator's Manual and Safety Instructions.
For flat material handling
Pocket for IR Remote Transmitter*
Removable cover allows inspection of battery
Temperature compensated: built-in automatic cut-off charger prevents over-charging of battery.
For safety, magnet can not be turned "ON" if battery charge is too low.
Interlock prevents magnet de-energization when suspended in air.
Audible Warning Alarm and flashing light indicate low battery
Lighted display indicates battery charge level.
110V AC cord and plug for built-in battery charger
Uses "Deep Discharge" type low maintenance Gel Cell Battery (not included).
Meets all the requirements of ANSI/ASME B30.20 (safety standard).
Supplied with manual, pull test certificate, video, and safety poster.
Dual push button release
Clip allows operator to attach to belt or pocket
Single push button lift
Additional remote control units available at nominal cost.
Item Number
WIDTH (inch)
LENGTH (inch)
HEIGHT (inch)
WEIGHT (lbs)
WIDTH (metric)
LENGTH (metric)
HEIGHT (metric)
WEIGHT (kg)*
MAX CAPACITY ON ROUNDS (lbs)**
MAX CAPACITY ON PLATE (lbs)**
BUXF03000
9.875
21
23.25
191
251mm
533mm
591mm
86.6
N/A
3000
BUXF05500
9.875
21
24.875
275
251mm
533mm
632mm
124.7
N/A
5500
BUXF08000
9.875
48
24.875
565
251mm
1220mm
632mm
256.2
N/A
8000
BUXF11000
12
60
24.875
650
305mm
1525mm
632mm
294.8
N/A
11000
¹ Battery not included
*Weights are approximate net values. Shipping weights will be higher.
**Max capacity tested on AISI 1020 steel. Other materials may perform at a lower max capacity and should be evaluated for a magnetic derate value.
Available for Order Online through the Industrial Magnetics, Inc. store