TRMP Series Towable Electromagnetic Sweeper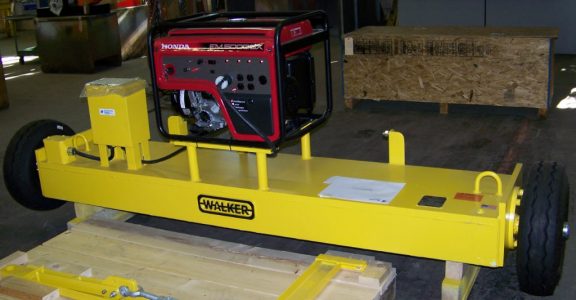 A towable electromagnetic sweeper design that is supplied with wheels, 600 x 9 pneumatic tires, an adjustable towbar, and parking stand. The stand folds up into the towbar when not in use.
All units can be supplied with a heavy duty, commercial quality 115volt AC generator mounted to the top of the sweeper. Generators are powered by a 4 stroke OHV gasoline engine.
Magnets are energized and de-energized using the 115 VAC "ON" – "OFF" switch on the generator. A remote switch on 20ft of cable is available upon request.
Picking up unwanted metals from construction sites, airports, dockyards, andsteel service yards
600 x 9 pneumatic tires
Adjustable towbar
Parking stand
115 volt AC generator
4 stroke OHV gasoline engine