SSC Controlmaster Digital Power Converter, Magnet Controller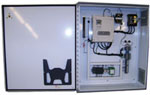 The Solid State Controller (SSC) is compatible with all electromagnets. It includes the option to have infinitely variable power control. These controllers have fanning/dribble options and are radio control compatible. They are lighter than traditional magnet controls.
Outdoor enclosures are available upon request. Multiple magnet selection options are also available upon request along with a reduced initial magnet power feature.
Compatible with all electro magnets
NOTE: Previously offered, traditional DC rectifiers and control equipment also available.
Enhanced magnet performance
Infinitely variable power control available
Reduced maintenance
Solid state digital design
AC line circuit breaker disconnect
Fanning/dribble
Radio control compatible
Reduced cycle time (faster lift/faster drop)
Compatible with all electro magnets
Smaller and lighter than traditional magnet controls
Magnet "ON" indicator light
AC noise suppression circuit
Runs cooler
Type 12 enclosure with louvers- standard
Type 3R enclosure available
Magnet temperature monitor alarm available
Multiple magnet selection available
Reduced initial magnet power feature available