Battery Back-Up System Magnet Lift Control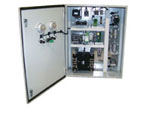 Battery Back-Up Units are used to provide 20 minutes of emergency power to the magnets in the event of an interruption of power to the crane. The Battery Back-Up System is designed for use with the Walker SSC Controlmaster Solid State Digital Power Converter/Magnet Controller and Traditional Walker PCCU Controller. This unit provides a highly regulated charging system that never requires adjustment in the field to provide maximum battery life with minimal maintenance. The charging system monitors both the charging voltage and the charging current. A PLC monitors the data and keeps the batteries at the correct float voltage regardless of line fluctuations.
Outdoor enclosures are available upon request.
For use with the SSC Controlmaster and PCCU controller
PLC based solid state controls for reduced maintenance and ease of troubleshooting
Continuous voltage monitoring
Continuous current monitoring
Door mounted: charging indicator light, charger fault light, magnet-on-batteries indicator light, horn silence push button, battery voltmeter, and battery ammeter
Diagnostic circuitry
Remote mounted 98dB alarm sounds to indicate magnet-on-batteries
Optional remotely mounted display section
Type 12 enclosure with louvers, Type 3R available
Door mounted battery disconnect switch